So recently, GW has been wheeling out previews for the upcoming Deathwatch book. I have to say, I'm interested, especially since I've always liked the background of the Deathwatch (ie, why choose which Chapter to play when you can play ALL the Chapters?), and have toyed with the idea of including a Deathwatch detachment to support my other Imperial forces. However, in the aforementioned previews, I couldn't help but notice one of the Warlord traits the Deathwatch had access to:
Now where have I seen this warlord trait before? I must say, it bears an uncanny similarity to:
-Adept of the Codex (Ultramarines)
-Fate Reader (Ulthwe Eldar)
-Monitor Malevolus (Adeptus Mechanicus)
-Grand Strategist/Kurov's Aquila (Astra Militarum)
-Labyrinthine Cunning (Kabal of the Black Heart)
-Helm of the Third Eye (Thousand Sons)
And the list goes on and on. Though there may be slight differences here and there (such as some of the aforementioned only working on a 6+, and/or having the ability to steal the enemy's spent command points), but the fact remains that we are now seeing the same basic mechanic being copied and pasted across several codexes, usually as a warlord trait or relic.  And it's not just this one ability, either: I've noticed quite a bit of repetition in a lot of the subfaction abilities of many armies. For those of you who like lists (I know I do), here's a lengthy one of subfactions that just so happen to have the same ability:
Advance and shoot:
Black Legion, Tallarn Desert Raiders, Metallica, Vior'la Sept, Sautekh Dynasty
Advance and charge:
Renegade Marines, Cult of the Red Grief
+1 attack on the charge
World Eaters, Cult of Strife
+1 strength
Catachan Jungle Fighters, Cult of the Cursed Blade
Ignore wounds on a roll of 6:
Iron Hands, Graia, Ulthwe Craftworld, Hive Fleet Leviathan
Range increase of guns by 6″
Vostroyan Firstborn, Bork'an Sept, Kabal of the Obsidian Rose
Reroll 1's to shoot if stands still:
Cadian Shock Troopers, Nihilakh Dynasty, Hive Fleet Kronos
May charge after falling back:
White Scars, Hive Fleet Kraken
Enemy has -1 LD for every unit in 6″
Reroll 1's to wound in Fight Phase
Ryza, Hive Fleet Gorgon, Kabal of the Poisoned Tongue
+1 to cover save if does not move (or does not advance or charge):
Dal'yth Sept, Hive Fleet Jormungandr
Enemy has -1 to hit at long range:
Raven Guard, Alpha Legion, Alaitoc Craftworld, Stygies VIII
Hit on 5+ in overwatch:
Mordian Iron Guard, Agripinaa, T'au Sept
Half damage from morale:
Valhallan Ice Warriors, Iyanden Craftworld
Reroll failed charges:
Black Templars, Saim-Hann Craftworld, Hive Fleet Behemoth, Cult of Red Grief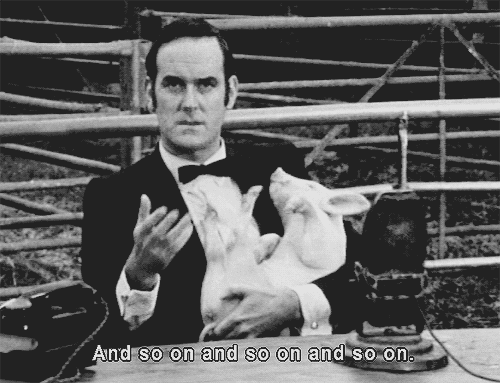 This trend seems, to me at least, to be somewhat counter-intuitive. When 8th ed first came out, one of the things it billed was the end of universal special rules: instead of having to remember about two-dozen universal rules throughout the game, instead every single unit would have its own unique special rules that could easily be found on the datasheet. This was meant to mitigate the endless searching (in theory), and also foster a greater sense of uniqueness between armies and units.
But now it feels like universal special rules are creeping back into the game, now that the same freaking rules mechanics are popping into every single codex. The thing is, in the case of a lot of these repeated rules, I can't help but wonder if GW could have taken the time and effort of coming up with something new instead of copy-and-pasting a previous rule mechanic (even if that mechanic is particularly useful). In the case of the Lord of Hidden Knowledge trait, for instance, the vast alien-slaying knowledge of the Deathwatch warlord could be represented by "marking" a single enemy unit for rerolling wounds, or conferring a reroll wounds on 1's bubble in shooting (to represent his knowledge of enemy weakpoints), or even allowing him a free extra CP on top of what is already being generated.
I am not saying, necessarily, that the "recycling CP" trait that Lord of Hidden Knowledge trait, as is, is a bad thing, nor am I necessarily saying that the re-use of this particular mechanic is bad either. And I am fully willing to admit that I am looking for copy-and-paste similarity at the expense of any rules mechanics that genuinely are unique and novel. But I am wondering if this is a pitfall that GW ran into from a games design perspective: whether they set out to eliminate universal special rules…and then, when pressed for time in coming up with good rules mechanics, found themselves slowly but surely gravitating towards them again.
Personally, I hope that GW finds a way out of this pitfall: from my own personal perspective, I always like it when it when Codexes and army rules feel distinct from one another. This recycling CP's ability, however, is so prolific that you can almost anticipate it being in every upcoming codex in some form or another, especially since it is almost always a go-to option in competitive lists. Beyond just this particular ability, I don't see the replication of rules as a problem yet, but I do hope that it doesn't become more and more excessive in future– otherwise, we may as well say that generic universal special rules never left.
That's my two cents, anyway.